Num-Ti-Jah is a lodge situated in Banff National Park, Alberta, Canada, along the Icefield's Parkway. It is located approximately 40 kilometers north of Lake Louise on Highway 93. The lodge offers stunning views of the surrounding Canadian Rockies and is positioned overlooking a particularly dramatic scene. When gazing out from Num-Ti-Jah, visitors can admire the majestic mountains that rise steeply and ruggedly beyond Bow Lake. One of the highlights is the sight of the Crowfoot Glacier, where blue ice formations hang suspended over the vibrant turquoise waters of the lake.
The lodge itself consists of various facilities to accommodate guests and enhance their overall experience. It features 16 guest rooms, which provide comfortable accommodations for visitors. These rooms are designed to offer a cozy and relaxing atmosphere, allowing guests to unwind and enjoy their stay in the picturesque setting.
With the desire to enhance the lodge's ambiance and create a more elegant style, the owner and myself embarked on a redesign project. This endeavour aimed to elevate the lodge's overall aesthetic appeal and create a refined atmosphere that complements the natural beauty of the surroundings. Through careful consideration of design elements such as colour, typography and social media, the lodge underwent a transformation to provide guests with a sophisticated and memorable experience that matches the breathtaking scenery outside.
Client
Num-Ti-Jah Lodge
Services
Re-branding, Website Design, Hotel Merchandise, Brochure Design, Social Media
Old Logo → New Logo
Num-Ti-Jah Lodge hadn't had any branding or logo since being taken over in ownership in the 90's. Num-Ti-Jah used deer antlers in most merchandise, serif fonts and used the header below for all written correspondence.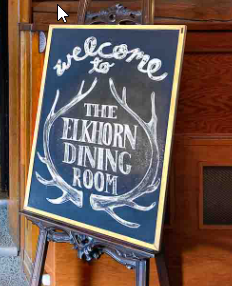 The owner wanted to incorporate the deer antlers from the previous design and give it a modern, sleek look that appeals to a younger audience.
The logo features a simplified and stylized representation of deer antlers within the iconic red roof. The antlers are streamlined and modernized, with clean lines and minimal details, creating a sleek and contemporary aesthetic.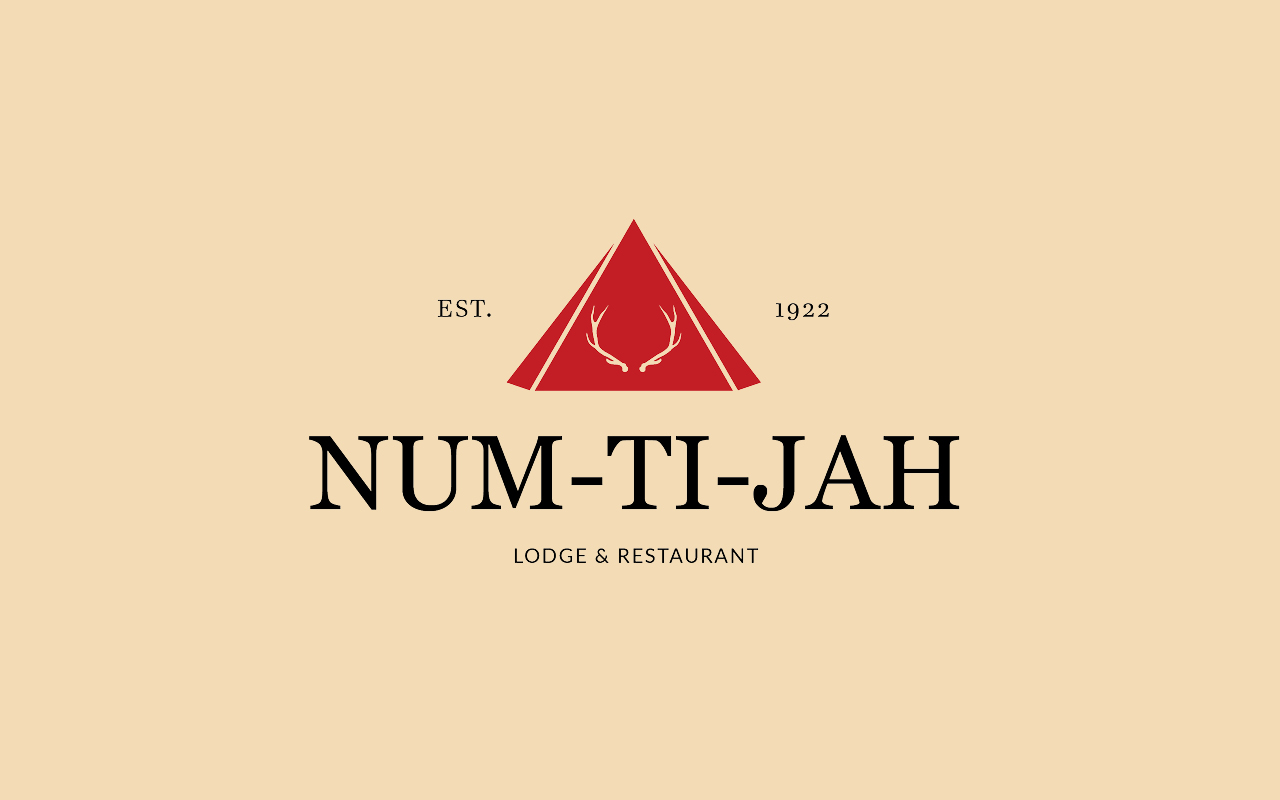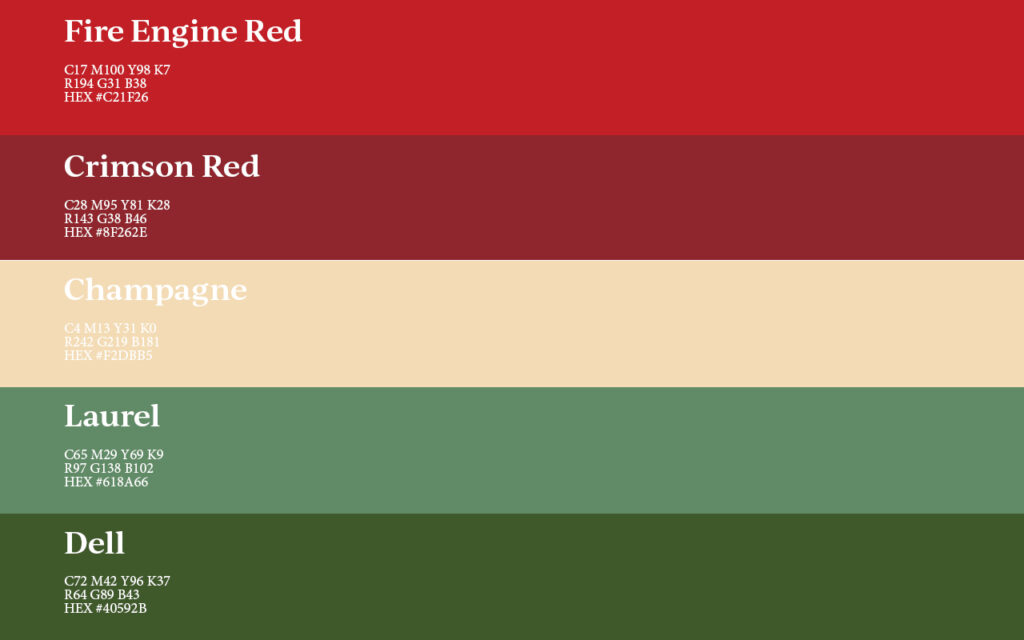 Website Design
Inspired by the picturesque beauty of our surroundings, our website captures the essence of Num-Ti-Jah Lodge through a harmonious blend of simple green, reds, and yellows. These vibrant colors pay homage to the lush forests, vibrant sunsets, and golden hues that grace the Canadian Rockies.
Escape. Reconnect. Discover. Our simple design elements allow the lodge's elegance to shine through. Clean lines and intuitive navigation ensure that your online experience reflects the seamless hospitality you can expect during your stay. The website's layout beautifully balances functionality and aesthetics, making it easy for you to explore the diverse offerings at Num-Ti-Jah Lodge.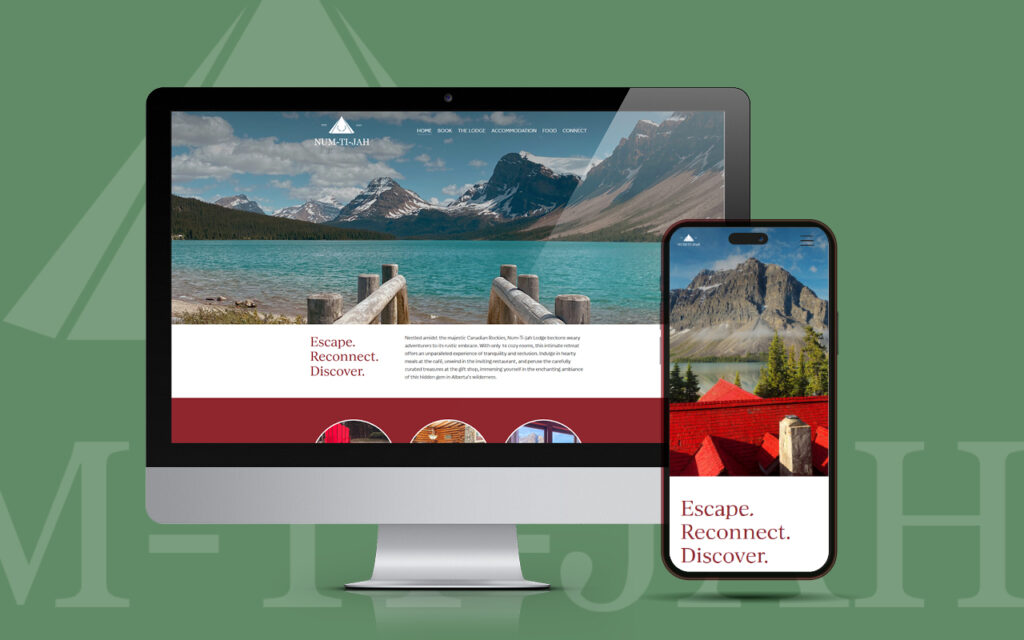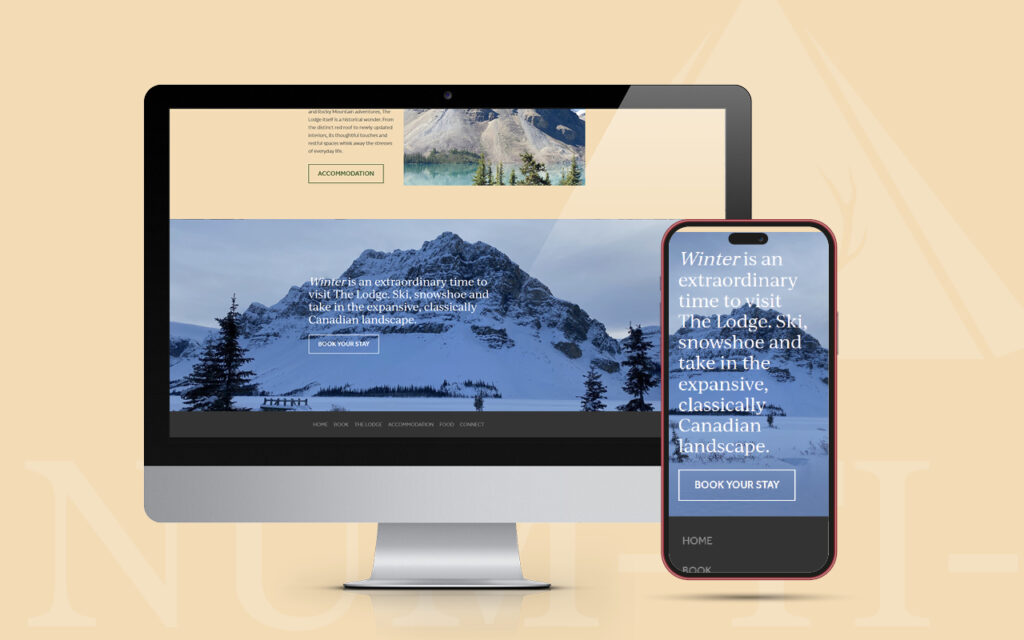 Hotel Merchandise
As a passionate designer, I embarked on a creative journey to curate a collection that exudes elegance and serves a distinct purpose for guests and the hotel alike. From scented candles that create a soothing ambiance to exquisite mugs designed for moments of indulgence, every item was carefully selected to enhance the hotel experience. Plush slippers were meticulously crafted to envelop guests in ultimate comfort, while moisturizers, shampoo, and conditioner were specially formulated to rejuvenate and nourish their skin and hair.
The stationery collection offers a canvas for creativity and sophistication, while the business cards reflect the hotel's style and attention to detail. Signature soaps provide a moment of indulgence during bathing, and meticulously embroidered bathrobes offer a haven of relaxation. The collection also includes fluffy towels and other carefully chosen amenities that ensure each guest's experience is extraordinary.
In essence, this collection represents a dedication to elevating the guest experience, providing them with tangible comforts and luxurious touches throughout their stay. From the flickering flame of a scented candle to the gentle embrace of a plush robe, every item invites guests to immerse themselves in a world of elegance and tranquility.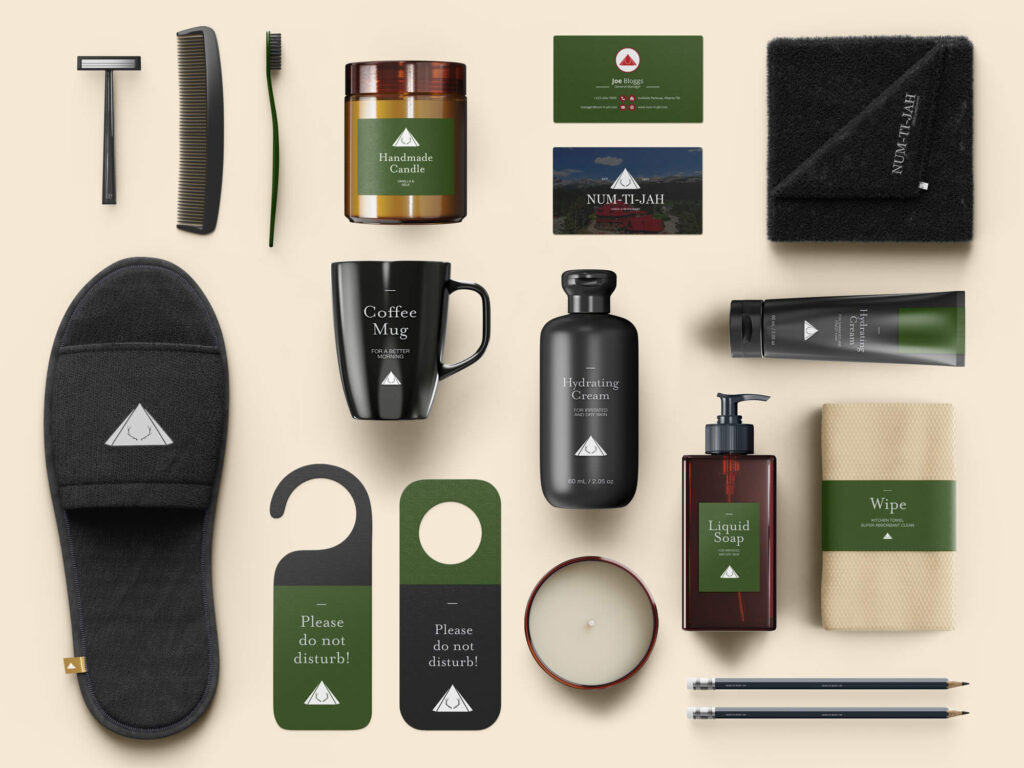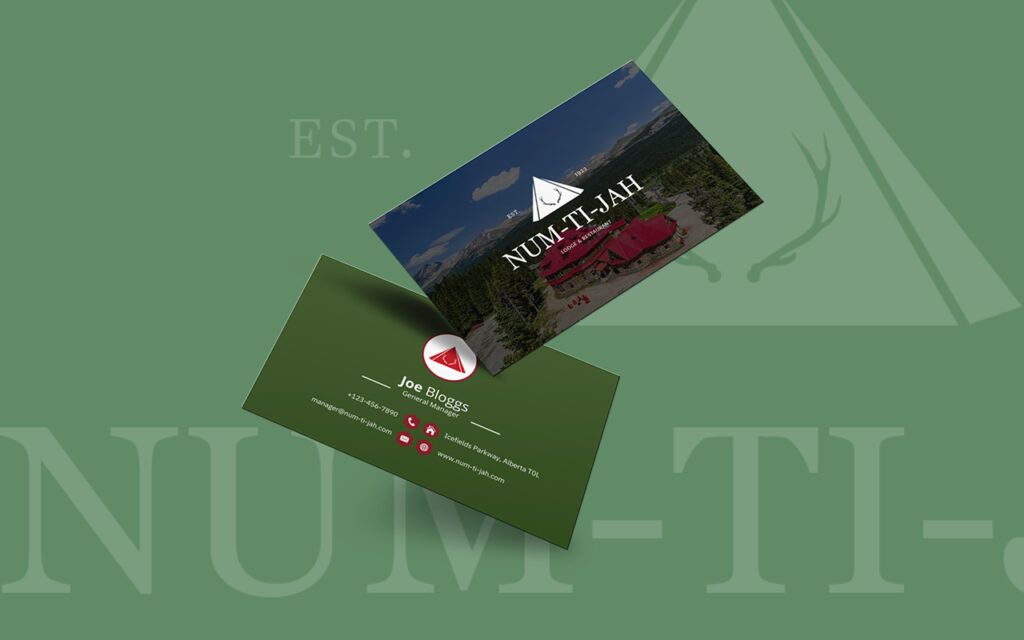 Social Media Strategy
Through our carefully crafted social media content, we transported our followers on a virtual journey, showcasing the untamed wonders surrounding our lodge. We captured and shared stunning photography and videos that highlighted the majesty of the Rocky Mountains, pristine lakes, and vibrant wildlife, allowing our audience to experience the tranquility and adventure that awaited them here.
Our strategy went beyond visuals. We also provided insider tips, revealing hidden gems, hiking trails, and activities that made each visit to Num-Ti-Jah Lodge truly exceptional. Our local experts shared their knowledge to help our audience make the most of their wilderness adventure.
Engaging stories played a vital role in our campaign, as we shared captivating tales of our guests' memorable experiences and encounters with wildlife. We brought the spirit of adventure to life, encouraging our followers to engage with us and share their own outdoor tales.
Throughout our campaign, we also offered exclusive promotions, providing our social media community with the first look at special offers, seasonal packages, and exciting events happening at Num-Ti-Jah Lodge. We created a sense of belonging, fostering a vibrant community of nature lovers who came together to celebrate the magic of rural Alberta.
We are proud of the community we built, connecting with fellow outdoor enthusiasts through user-generated content. Our audience tagged us in their photos, used our branded hashtag #NumTiJahAdventures, and helped us create a space where the beauty of nature was shared and celebrated.
Through our past social media strategy, we successfully rejuvenated, inspired, and connected with our audience. Our content showcased the wonder of rural Alberta and the unique experience offered at Num-Ti-Jah Lodge. 🌿🏔️